Creative process
At Anomaly, our animation process differs slightly for every project we create, partly due to the range of clients we have, but also for the range of projects we create. However, the underlying process principles and general order of production remain consistent. Below are the 7 steps most of our animation projects go through, whether we're creating a 60-second explainer video or a 30-second TV advert.
We listen to your objectives and goals to understand the story you wish to convey along with your target audience, deadline and budget requirements. Key elements of this information feed in to your script, treatment and style frames. Let's get started!
We then begin writing a script for our video. This is what the voiceover narrates in the background while our visuals play along. We make sure the script hits all the key points and uses a language and tone appealing to your target audience.
Working in accordance with your brand guidelines, any references we may have discussed, and from your brief, we create a number of illustrations so you can see exactly what the finished video would look like.

Didn't like the colors or how a frame was visualized? No worries! We'll change 'em!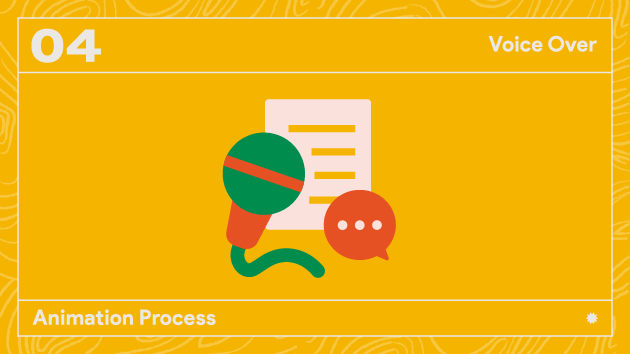 We'll share a bunch of voiceover samples with you to choose from. Let us know which one you like the most - And we'll get our voiceover recorded in the tone and pace that suits your brand and our target audience!

We can also arrange for translations if needed!
With the script, style frames, and voice-over signed off, it's time to start animating. Depending on the complexity of every project, and the length of our voice-over, this process could take weeks. This is why it's essential we collaborate and sign off the previous elements before moving on.
Once we're done with the animation, we share a couple of music tracks for you to choose from, add the sound effects and re-export the video with all the final touches!
We also have a roster of music composers to choose from if you'd prefer custom tracks for your video.
The animated video files are exported to your technical requirements and delivered to you! We conclude each project by inviting our clients to share any feedback they might have for us.